We've been working our way through a study of the One God of the Bible. In week one we examined how He reveals Himself in the form of three unique Persons. Then we spent a week studying the Father, one studying the Son, and now we have reached the week in which we'll examine Scripture to see what we can learn about God the Spirit.
2 Corinthians 3:17-18 – For the Lord is the Spirit, and wherever the Spirit of the Lord is, there is freedom. So all of us who have had that veil removed can see and reflect the glory of the Lord. And the Lord – who is the Spirit – makes us more and more like Him as we are changed into His glorious image.
God the Spirit from Genesis to Jesus
Perception often has the Holy Spirit sort of "on the bench" before Pentecost, but God the Spirit was quite active in the Old Testament. All the way back to creation the Spirit was both present and active, not just an observer "hovering over the face of the waters" as I tend to think of Him.
Job 26:13 – His Spirit made the heavens beautiful, and His power pierced the gliding serpent.
I absolutely love to think about how God the Spirit made the heavens beautiful. As if it's the Holy Spirit that contains the artistic aspects of who God is. Don't you just love the thought of that? God made this world so complex, and it's awesome on every level, but it was specifically the work of God the Spirit that made it beautiful. And it is truly beautiful! I for one am so thankful the setting of the sun isn't just an incident that keeps the order of the universe intact, but also a daily moment of breathtaking wonder!
I'm thankful for the Holy Spirit, who made the heavens beautiful! I'm so thankful the setting of the sun isn't just an incident that keeps the order of the universe intact, but also a daily moment of breathtaking wonder!
Click To Tweet
It seems so appropriately ironic the "Breath of Heaven" would be responsible for the wonder that so often takes my breath away, because according to Scripture it was the Holy Spirit who breathed life into man in the first place. Before that moment Adam was just a complex hunk of matter, but the "Breath of the Almighty" gave him life. (Psalms 104:30, Genesis 2:7, Job 33:4)
This was only the beginning, though. From Joseph through John the Baptist, it was through God the Spirit the Lord called and equipped His prophets to fulfill the tasks for which He had created them. By the power of the Spirit these men and women were given the ability to interpret dreams, predict the future, and carry the messages of God. (Genesis 41:38, Numbers 11:25, 28-29, Daniel 5:11-12, Luke 1:14-15, 2 Peter 1:20-21)
The Holy Spirit did more than just call and empower prophets, though. It was also through His power people were given all kinds of abilities: Artistic talent, leadership skills, courage, wisdom, skill in battle, the ability to teach, and many other things. These men and women became Israel's Judges, Kings, and heroes of the faith, but it wasn't them; they weren't really the heroes. Rather, it was the Spirit of the living God! (Exodus 35:31-34, 2 Chronicles 24:20, Numbers 27:18-19, Zechariah 4:6)
Later we'll discuss how in our age the Holy Spirit permanently indwells every believer, but before Pentecost this was not the case. Just as the Bible often speaks of the Spirit coming upon people, it also talks about the Spirit leaving people. Three great examples are Saul, Samson, and the whole nation of Israel. In all three cases the Spirit of the Lord came upon them at one point and did His work, but later the Bible specifically tells us that the Lord left them. (Judges 13:25, 16:20, 1 Samuel 10:10, 16:14, Isaiah 63:10-11)
In each case pride, rebellion, and disobedience got in the way. People who had been given the opportunity to be vessels through which the Spirit of the Lord did mighty works decided to instead take the credit themselves and lost out on the power and presence of the Holy Spirit in their lives. It was a real shame, but it also pointed to something yet to come. Something new, different, and better. A covenant relationship in which God the Spirit would indwell His people forever and change them from the inside out. (Isaiah 32:15, Ezekiel 36:26-27)
The Holy Spirit in the Life of Jesus
There is an important aspect of the life of Christ I had overlooked until I did the research for this study: He was the perfect example of a Spirit filled life! From His conception to His ascension, Jesus spent every moment guided and empowered by the Holy Spirit! (Luke 4:18-19, 21, Luke 1:35, Matthew 4:1, Luke 4:14, Luke 10:21, Hebrews 9:14, Luke 23:46, Romans 8:11, Acts 1:2)
When we studied the life of Christ last week, one of the things we examined was how He surrendered His divine power and privilege in order to become fully human. I am convinced this was a total surrender; that while He was a man Jesus chose to give up the power to do anything that you and I don't have the power to do. This idea is so exciting to me because, if I'm right, it means every miraculous thing Jesus did while He was here on earth was done through the power of God the Spirit. It means a life fully surrendered and obedient to the will of God can live just as He did, and that is inspiring!
Old Testament prophecy foretold the coming of One who would have the Spirit of the Lord resting upon Him. When Jesus was baptized the Bible tells us the Spirit literally rested upon Him in bodily form like a dove empowering Him to:
Lead a perfect life even though He was tempted in every way we are. Romans teaches when we're Spirit-filled we have no obligation to sin.
Live constantly seeking the will of God, filling His life with divine appointments and miraculous events.
Teach the Scriptures to others with wisdom and understanding.
Heal countless multitudes and set free the captives of the enemy.
Offer Himself as a sacrifice
Arise from death in victory.
The Bible says God gave Him the Spirit without limit. It also says He offers that same Spirit to us! May we surrender ourselves completely to God and ask Him to give us the Holy Spirit without limit! I believe there is no request we could make that would please Him more. (Isaiah 11:2, Philippians 2:7-8, Isaiah 42:1, Matthew 12:15-18, John 17:4-5, Acts 10:38, Matthew 12:28-2, John 3:33-34)
The Indwelling of the Holy Spirit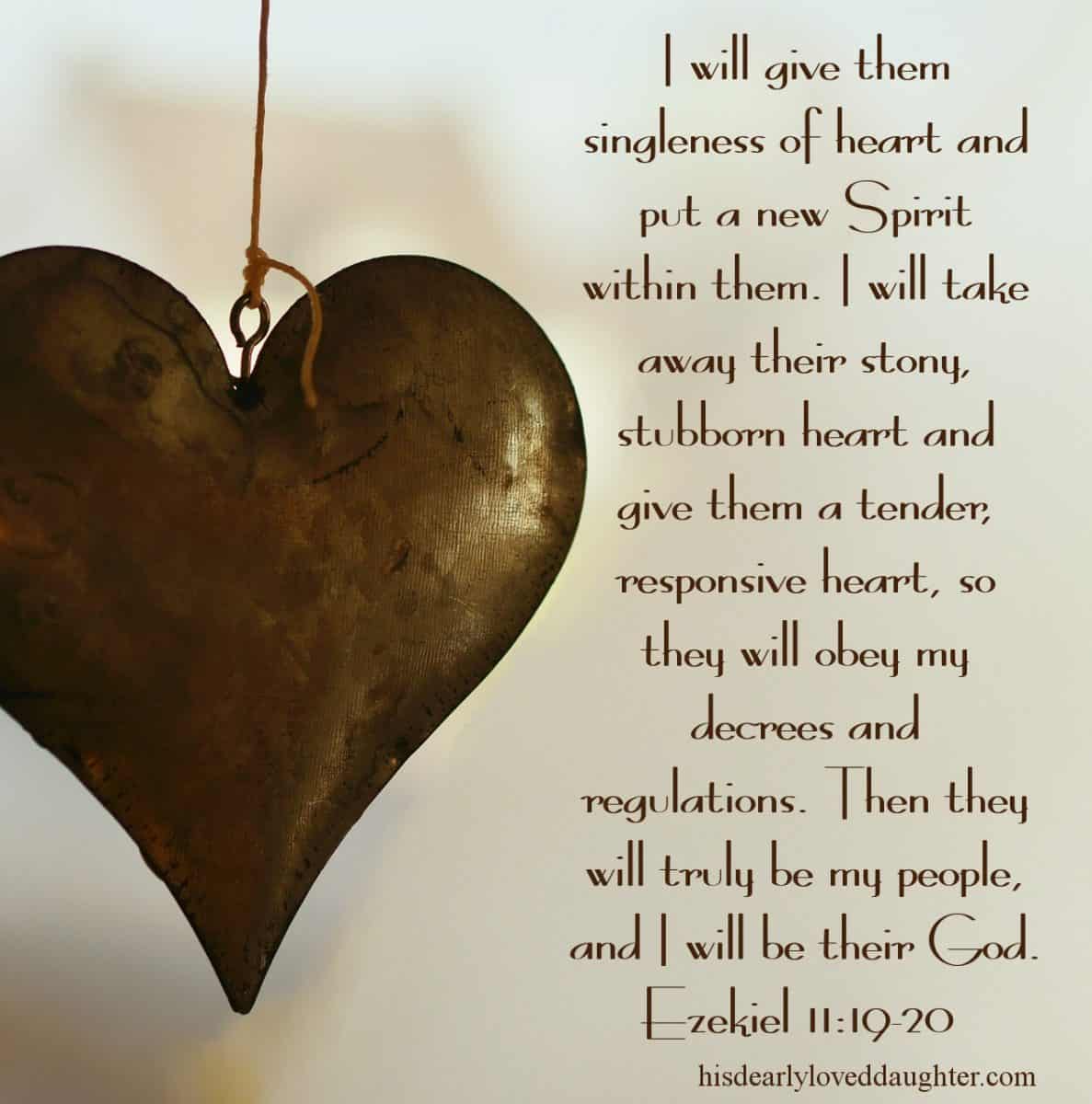 Under the Old Covenant God the Spirit was still active in the lives of His people, but the prophets spoke of a coming time when God would give His people a new heart and put His Spirit in them. No longer would the people of God have to worry that the Holy Spirit would be taken away from them.
We have the great privilege of living under that New Covenant. Now, God the Spirit takes up permanent residence within our hearts and is the seal that ensures our place in God's family forever. This is what we call the "indwelling" of the Holy Spirit. He cannot be taken away. Not anymore. We are secure!(John 3:5-8, Hebrews 10:15-18, Ephesians 1:13-14)
This "New Covenant" started on the day of Pentecost shortly after Jesus ascended back into heaven. Jesus had spoken to His disciples before and after His death about what was going to happen. He'd told them He would send the Holy Spirit to them from the Father, and this Spirit of God would live in them. (John 14:17, John 14:23-26, John 16:8, Acts 2:1-5)
How exciting it must have been to be in the crowd that day as the Spirit of the living God came and filled thousands of believers. Can you imagine the energy in the church of God as they left that place – a brand new creation? How thrilling to think they had received the long-promised Advocate who would fill them and live all of life with them; leading them and convicting them and empowering them! And here we are, over two-thousand years later, still living under that same awesome covenant! Still given the same privileges they enjoyed because the power that RAISED CHRIST FROM THE DEAD is living inside of us! Set free from the power of sin and given new life. Empowered with everything we need for this life and sealed forever by God the Spirit – completely secure in the family of God! (1 John 2:26-27, 1 Corinthians 3:16-17, Romans 8:2-11)
We have the great privilege of living under that New Covenant.  Now, God the Spirit takes up permanent residence within our hearts and is the seal that ensures our place in God's family forever. He cannot be taken away. Not anymore.…
Click To Tweet
God the Spirit's Leading and Inspiration
1 Thessalonians 2:13 – Therefore, we never stop thanking God that when you received His message from us, you didn't think of our words as mere human ideas. You accepted what we said as the very Word of God – which, of course, it is. And this Word continues to work in you who believe.
The Bible tells us the reason we can completely trust Scripture as truth is because it is not the words of human beings, but rather the living Word of God Himself. These words were not only given to the writers through the inspiration of the Holy Spirit, but they are understood by us through that same inspiration. That's what makes it living. (2 Timothy 3:16-17, 1 Corinthians 2:10-15, 2 Peter 1:20-21, Psalms 119:160)
Jesus believed in the inspiration of Scripture, and spoke of it during His time here on earth. He also told His followers they would continue that work and be inspired to record the rest of God's message to His church. The authors of the New Testament also had no problem claiming divine inspiration in their own writings. (Matthew 22:43, John 16:13-14, John 14:26, Revelation 22:6, Galatians 1:11-12)
His inspiration work does not stop there. It's also the Holy Spirit who leads believers into God's perfect will for our lives and inspires our speech in order to line up with God's own desires. He appoints leaders for His church, guides the comings and goings of His people, lays out our missions before us, and orchestrates our situations to lead us into all truth! (Matthew 10:20, Acts 20:28, Acts 13:2, Romans 8:14, Acts 8:29, Acts 16:6-7, Luke 12:11-12, Galatians 5:18, & 25, Isaiah 30:21)
Prayer and the Holy Spirit
Ephesians 6:18-20 – Pray in the Spirit at all times and on every occasion. Stay alert and be persistent in your prayers for all believers everywhere.
Many believe that to "pray in the Spirit" is to pray in tongues, but I believe the phrasing of these verses in Ephesians is clear evidence that this is not the case. It says to pray in the Spirit at all times, and on every occasion. Praying in tongues is only one kind of prayer, and the phraseology here would include all kinds of prayer. No one is praying in tongues at all times. Jesus Himself did not pray that way. If Jesus prayed plainly in the language of His people on many occasions, we can be sure that praying in the Spirit does not mean praying in tongues, because we can be sure that Jesus was always praying in the Spirit.
So what does it mean to pray in the Spirit?
Scripture teaches God the Spirit gives us a "power" as we pray which does several things:
It causes our spirits to join with God's Spirit and confirm that we are His, enabling us to call out to Him as a child does to her daddy.
It guides our lives so that we won't be doing what our sinful nature craves.
In other words, when we are praying in the Spirit, we will come before God understanding rightly who we are and who He is. We will be humble about ourselves and confident in Him.
James 4:1-10expands on that by showing us what it looks like to pray when we are NOT praying "in the Spirit." It teaches that God is passionate that the Spirit, which lives in us, should be faithful to Him. Can you imagine how difficult it must be for the Holy Spirit when we sin? What must it be like for Him when we choose to silence His voice and His leading and go our own way and do our own shameful things? How must He feel to have to stand by and watch as we defile His temple?
I imagine He wants to break out the whips and turn over some tables, as Jesus did in the temple of the Lord in Jerusalem! I'm sure it breaks His heart, and He stands by longing for us to change just as Jesus did when He sat on the hill overlooking Jerusalem and mourned for her! It should break our hearts too!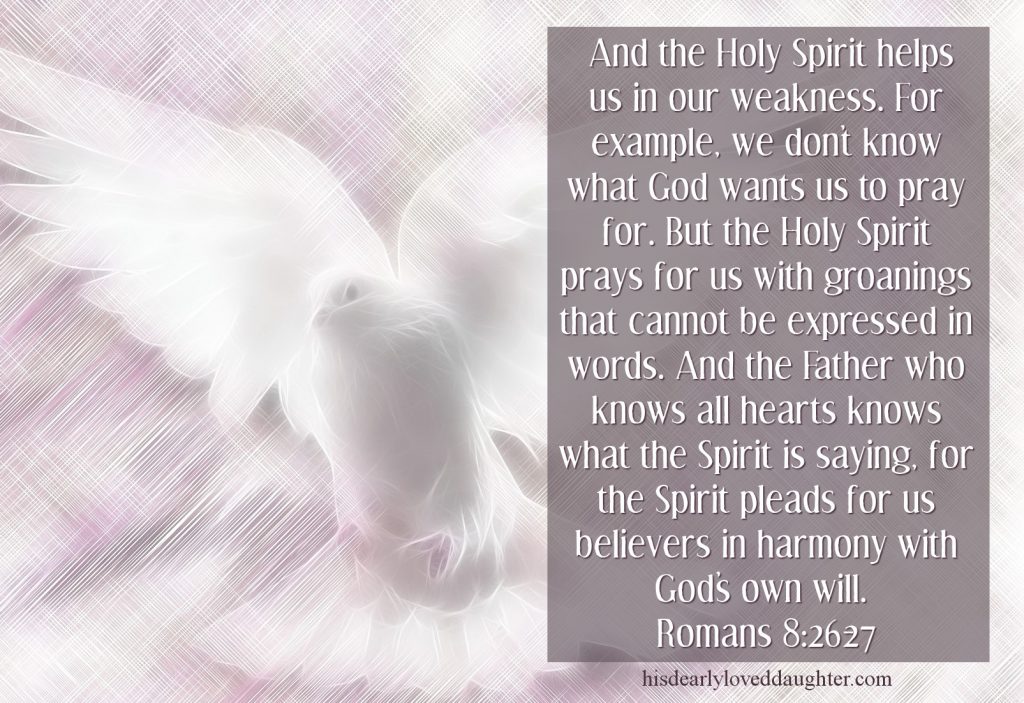 Let's humble ourselves before the Lord. Then we'll be able to pray in the Spirit, and He will communicate to us from God by speaking to us from the Word. Through His powers He will also lead our prayers and will communicate for us in line with God's will so that we can know with confidence that we have what we ask for. Unlike the wicked prayer described in James, our prayers will be righteous, because they will be from God!
The Gifts and the Fruits of God the Spirit
As we close out this week's study, let's look at the gifts God gives us as believers through the power of the Holy Spirit. The Bible says God the Spirit is the source of all spiritual gifts, but what are they?
I believe Scripture is clear there are many gifts, I don't see any reason to believe any of the lists are exhaustive. The language doesn't imply a presentation of the only gifts given by the Spirit, but rather, an exhortation on how we're to use our gifts including examples. So, I don't really see a point in making, or taking a test to discover our spiritual gift. It could be just about anything that God has given us a special ability to accomplish.
I believe the point is: whatever you're good at, recognize that God, through the power of the Holy Spirit, is the One who made you good at that thing. Don't get proud about it, or think it makes you better than someone else. Simply use that gift to glorify God and to build up the church. We're all part of the same body, and we need all the parts. (1 Corinthians 12:4-6, 1 Peter 4:10, 1 Corinthians 12:7-11, Romans 12:2-11)
In addition to our unique spiritual gifts, the Bible also speaks of gifts from the Holy Spirit that can be given to all believers. These are gifts we should all ask God to give us, gifts we should all be seeking. (Romans 5:5, Ephesians 1:16-18, Ephesians 4:3-6, Galatians 5:16 & 22-25)
I love the way John Piper talked about this issue. My paraphrase is something like this:
God is the One who gives us life, and ultimately it is up to Him whether we live or die. But we still have to choose to breathe. If we choose to stop breathing we'll die. He'll still be in control, but we will have chosen death. It is the same with living in the Spirit. We have the Holy Spirit of God living in us, and He has the power to make us do anything He wants, but we still have to choose to submit to His leading. We still have to choose to live and to pray "in the Spirit." When we do, we will see all these gifts become evident in our lives. They will be the fruit we bear that proves to all those around us that we are part of God's family tree. We will be filled with love. We will have peace and unity with other believers. We will be bold and loving and self-disciplined. We will have insight and spiritual wisdom that comes straight from God. And of course, we will be filled to overflowing with love, joy, peace, patience, kindness, goodness, faithfulness, gentleness and self-control.
Let's ask our father to fill us with His Spirit and let's spend our lives pursuing Him!
Luke 11:13 – So if you sinful people know how to give good gifts to your children, how much more will your Heavenly Father give the Holy Spirit to those who ask Him.
Psalms 143:10 – Teach me to do Your will, for You are my God. May Your gracious Spirit lead me forward on a firm footing.
*How about you? What is your favorite thing about God the Spirit?
---
**If you'd like to receive an email from His Dearly Loved Daughter once a week informing you of new posts, and keeping you up to date on all that is happening with the ministry, subscribe by clicking the button below and filling out the form. Please check our privacy policy to learn what information is collected and stored. Thank-you, and God bless!
***Unless otherwise indicated, all Scripture quotations are taken from the Holy Bible, New Living Translation, copyright © 1996, 2004, 2007 by Tyndale House Foundation. Used by permission of Tyndale House Publishers, Inc., Carol Stream, Illinois 60188. All rights reserved.

****If you were blessed by this article, please save and share it on social media using the buttons below, or, post our quotes to Twitter by clicking the "click to tweet" boxes in the body of the post.