Hope For Today

January 22 - Psalms 19: 12-14 

How can I know all the sins lurking in my heart? Cleanse me from these hidden faults. Keep Your servant from deliberate sins! Don't let them control me. Then I will be free of guilt and innocent of great sin. May the words of my mouth and the meditation of my heart Be pleasing to You, Oh Lord, my Rock and my Redeemer! 

It is so easy to see why David, the one who penned these verses, was esteemed by God as a man after His own heart!  I can hear the longing as I read them of a man who's deepest desire was to align himself with the heart of God.  A man who understood his own sinfulness and humbled himself before his Lord and asked for help.  Let's make these verses our prayer today, and every day!  Let's acknowledge our tendency toward sin.  Let's recognize that many times we are blinded to the waywardness deep in our hearts, failing to see the need to confess and repent.  Let's ask our Lord, as David did, to cleanse us from these hidden faults, to keep our feet planted firmly on His straight path.  Let's surrender ourselves to the power of the Holy Spirit living within us and ask Him to control us rather than our sinful natures.  Then we will be able to live each day in the freedom that comes from a clear conscience.  

 

Let's pray together, "Dear Heavenly Father, we come before you as Your own precious children, longing to please You in everything we do.  You are the Keeper of our souls and we humbly ask for Your help as we know that we are so prone to wander from Your perfect ways.  Reveal to us whatever sin is lurking deep within our hearts.  Protect us today.  Keep us from temptation and deliver us from evil. May every word that comes from our mouths and every secret meditation of our hearts be pleasing to You, Oh Lord, our Rock and our Redeemer! We love you Lord, in Jesus's name, Amen."

 

 
---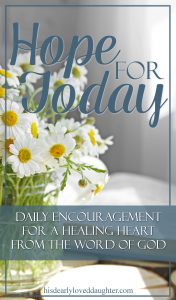 *Did you know you can receive a beautiful image on Instagram, Twitter, or in your Facebook news-feed each day to go along with the Hope For Today verse of the day? (Check out today's image in the sidebar under "Verse of the Day")
Just like and follow the page in this link: HOPE FOR TODAY FACEBOOK PAGE or, follow me on Twitter or Instagram.
**If you enjoy this devotional, share it with your friends! Click the "P" on the image to the right and save it to Pinterest, or share it to Facebook, Twitter, or other social media platforms using the share buttons below.
***Come back tomorrow for a new passage, a new verse image, and a new encouragement.
****Unless otherwise indicated, all Scripture quotations are taken from the Holy Bible, New Living Translation, copyright © 1996, 2004, 2007 by Tyndale House Foundation. Used by permission of Tyndale House Publishers, Inc., Carol Stream, Illinois 60188. All rights reserved.