Hope For Today
October 23 - Psalms 18:1-3

 

I love you, Lord; You are my strength. The Lord is my Rock, my Fortress, and my Savior; my God is my Rock, in whom I find protection. He is my Shield, the Power that saves me, and my place of safety. I called on the Lord, who is worthy of praise, and He saved me from my enemies.

 

Are you feeling weak today?  Do you feel unable to stand against the storms that rage in your life?  The Bible has wonderful news for us, dear sisters!  We don't have to be strong enough.  We don't have to carry it all ourselves. We don't have to face it alone!  Let's remember who we are!  We are the dearly loved daughters of the High King of Heaven.  Stop and think about that for a moment.  The God of Heaven's Armies, who created the whole universe and holds it all together, the Alpha and the Omega is on the throne in heaven and He cares about you and about me – His dearly loved daughters!  Do we allow that truth to penetrate our hearts and give us strength?  Have we truly accepted how very great His love is for us, and fallen deeply in love with Him as a result?  Is He the one we turn to when we need strength to face the day? He is a mighty Fortress, a solid Rock that will not move no matter how hard the storms rage. He has cleft a place of safety for us beneath the shelter of His protective shield. He is our Savior, dear sisters.  Let's call out to Him from our storms today, for He is able.  He is worthy of all our praise.  Lord,  save us!

 
---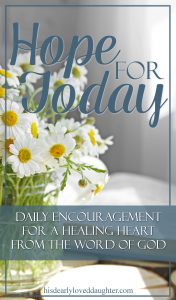 *Did you know you can receive a beautiful image on Instagram, Twitter, or in your Facebook news-feed each day to go along with the Hope For Today verse of the day? (Check out today's image in the sidebar under "Verse of the Day")
Just like and follow the page in this link: HOPE FOR TODAY FACEBOOK PAGE or, follow me on Twitter or Instagram.
**If you enjoy this devotional, share it with your friends! Click the "P" on the image to the right and save it to Pinterest, or share it to Facebook, Twitter, or other social media platforms using the share buttons below.
***Come back tomorrow for a new passage, a new verse image, and a new encouragement.
****Unless otherwise indicated, all Scripture quotations are taken from the Holy Bible, New Living Translation, copyright © 1996, 2004, 2007 by Tyndale House Foundation. Used by permission of Tyndale House Publishers, Inc., Carol Stream, Illinois 60188. All rights reserved.