5 Principles about Healthy Boundaries we Learn from God.
Biblical Boundaries – A 6 Part Series
We're spending some time learning about healthy boundaries around here. Last week we started the Biblical Boundaries series, and we'll keep it going for the next four weeks too! Here's what you can expect:
WEEK 1: Defining Boundaries – God's Way
WEEK 2: 5 Principles of Healthy Boundaries we Learn from God.
WEEK 3: 5 More Principles of Biblical Boundaries we Learn from God.
WEEK 4: 5 Rules for Making Boundaries Clearly Laid Out in Scripture
WEEK 5: How Do I Set Biblical Boundaries? 5 Steps to Get You Started
WEEK 6: How Biblical Boundaries Put God in Control
---
WEEK 2: 5 Principles of Healthy Boundaries we Learn from God.
1. Healthy boundaries stem from an understanding of who we are, and a refusal to be defined as anything less.
Jeremiah 5:22-23 & 25 – Have you no respect for me? Why don't you tremble in My presence? I, the Lord, define the ocean's sandy shoreline and an everlasting boundary that the waters cannot cross. The waves may toss and roar, but they can never pass the boundaries I set. But My people have stubborn and rebellious hearts. They have turned away and abandoned Me… Your wickedness has deprived you of these wonderful blessings. Your sin has robbed you of all these good things.
God knows who He is – He is God. He doesn't pretend to be anything less, and He does not tolerate being treated as such. He has no qualms about boldly declaring His Lordship, no fear of claiming His attributes.So many of the boundaries He has established stem from this simple truth – Disrespecting Him as anything less than the One True God will deprive us of blessing, rob us of good things, and separate us from Him.
God knows who He is – He is God. He doesn't pretend to be anything less, and He does not tolerate being treated as such.  He has no qualms about boldly declaring His Lordship, no fear of claiming His attributes.
Click To Tweet
We need to follow His example. We need to know and understand who we are in Him. The children of the One True God are set apart. They do not abide with sin or join themselves to corruption. They establish their borders with integrity. Only allowing in what honors Him, and therefore respects their position in Him.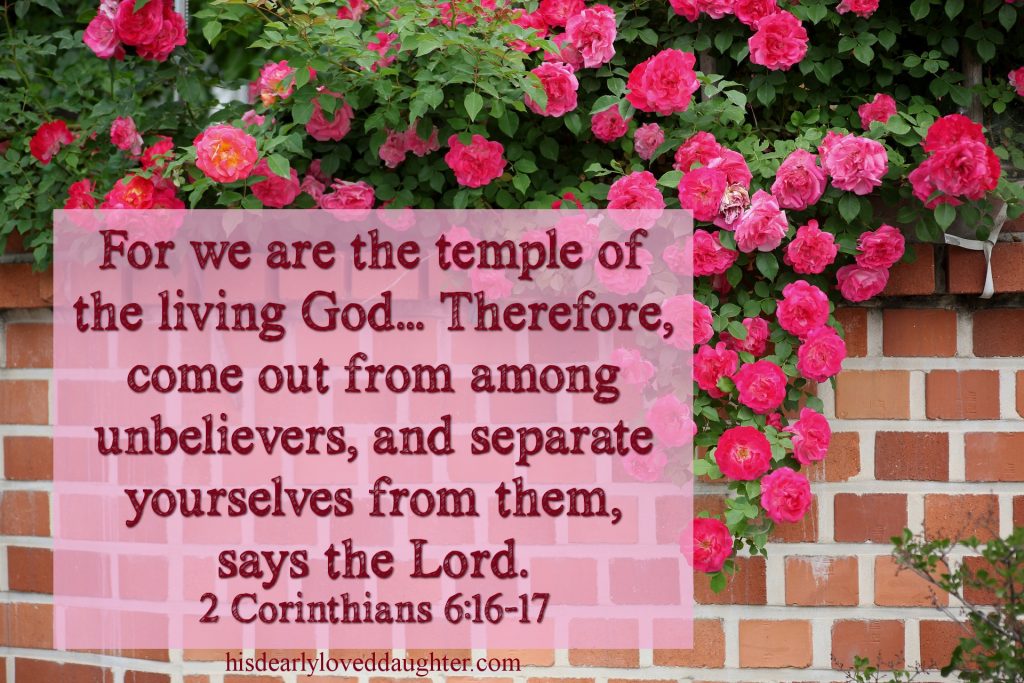 2 Corinthians 6:14-18 – Don't team up with those who are unbelievers. How can righteousness be a partner with wickedness? How can light live with darkness? What harmony can there be between Christ and the devil? How can a believer be a partner with an unbeliever? And what union can there be between God's temple and idols? For we are the temple of the living God. As God said: "I will live in them and walk among them. I will be their God and they will be My people. Therefore, come out from among unbelievers, and separate yourselves from them, says the Lord. Don't touch their filthy things, and I will welcome you. And I will be your Father, and you will be My sons and daughters, says the Lord Almighty."
2. Biblical boundaries are made with the intent to draw others in and build healthy relationships, not tear them down or punish.
Acts 17:26 – From one man He created all the nations throughout the whole earth. He decided beforehand when they should rise and fall, and He determined their boundaries. His purpose was for the nations to seek after God and perhaps feel their way toward Him and find Him – though He is not far from any one of us.
Everything God has established, every perimeter He lays is meant to draw all people everywhere to Him. Even the consequences of broken boundaries have been established, not simply to punish, but to bring us to the realization that we need Him. Desperately. If going it alone led to comfort and contentment, what would compel us to seek reconciliation to Him?
Our boundaries – if they are Biblical and healthy will do the same. If we go out of our way to make a person who is violating our borders comfortable we are doing him a great disservice! We're enabling him to continue to live in sin, or even making it easy to do so.
Well-crafted consequences, on the other hand, carry with them the longing to draw others back into right relationship. They aren't meant simply to make them suffer, but to help them recognize the pain and displeasure of living in sin, and the peace and joy of right living.
3. Healthy boundaries lovingly offer choice to others rather than attempting to control them.
Revelation 3:20 – Look! I stand at the door and knock. If you hear my voice and open the door, I will come in, and we will share a meal together as friends. Those who are victorious will sit with Me on My throne, just as I was victorious and sat with my Father on His throne. Anyone with ears to hear must listen to the Spirit and understand what He is saying to the churches.
Scripture is clear. God does not force us into relationship with Him. He can. He has the power to. He wants us to come to Him. We're told that He is not willing that ANY should perish, but that ALL should come to repentance. Yet, He doesn't force His way in. He stands at the door and knocks. He invites us to choose Him and rewards us greatly when we do.
Healthy, Biblical boundaries follow His example. God has the right to force us to follow Him, just as we have "the right" to a healthy relationship with certain people. A child, a parent, or especially a spouse. When my love promised to spend the rest of his life loving, honoring, and cherishing me, he gave me the right to demand that.
Healthy boundaries say, "I may have the right to this, but I'm still going to let you choose. I'll invite you to love, honor and cherish me, but you get to choose whether you will. You get to choose whether you'll experience the rewards of a relationship with me or choose instead to cross the line and give up a relationship with me."
Remember, God doesn't come in to enjoy a meal of friendship with those who leave the door unanswered. Those who reject Him will not sit with Him on His throne. They were given the choice and they chose separation from Him.
4. Healthy boundaries clearly communicate their expectations, and the reasons behind them.
Deuteronomy 7: 1-4 When the Lord your God brings you into the land you are about to enter and occupy, He will clear away many nations ahead of you…when the Lord your God hands these nations over to you and you conquer them, you must completely destroy them. Make no treaties with them and show them no mercy. You must not intermarry with them. Do not let your daughters and sons marry their sons and daughters, for they will lead your children away from me to worship other gods. Then the anger of the Lord will burn against you, and He will quickly destroy you.
God does not make His people guess what He expects of them. He doesn't assume that they'll just know. He also rarely demands something without explaining why.Instead, He lays out His expectations in detail, communicates them clearly, (almost always more than once) explains His reasoning and motivation, and very often asks that the boundary be written down and regularly reviewed.
A healthy Biblical boundary will follow this example. When making healthy boundaries, we'll take the time to examine our motives so we'll be able to clearly communicate them. We will sit down with our relationship partner (husband, child, parent, etc…) and have a conversation about the boundary and the reasons behind it. (If he/she won't listen, we'll write it down or record it clearly and in detail and ask him to read it or listen to it.) If we need to do it again later, we will. Once the boundary has been clearly communicated we'll write it down and ask that it be confirmed. We'll leave no room for there to be any confusion by us or anyone else what is expected.
God does not make His people guess what He expects of them. He doesn't assume that they'll just know. He also rarely demands something without explaining why.
Click To Tweet
5. Biblical boundaries clearly define the consequences of a violation of their borders.
Romans 6:23 – For the wages of sin is death, but the free gift of God is eternal life through Christ Jesus our Lord.
Exodus 19:12 – Mark off a boundary all around the mountain. Warn the people, "Be careful! Do not go up on the mountain or even touch its boundaries. Anyone who touches the mountain will certainly be put to death."
God never minces words when it comes to letting us know what will happen if we choose to step outside of His boundaries. He made it clear to Adam and Eve in the garden, He stated it plainly to Abraham, Isaac, Jacob, Moses, David, and countless others in the Old Testament, and He has communicated it clearly to us in this New Testament age. The wages of sin is, always has been, and always will be death. Eternal separation from Him. Period. The only way to avoid those consequences is to operate within His boundaries – to accept His free gift of saving grace and eternal life in relationship with Him.
Healthy boundaries will always be clear about what will happen outside of their borders. This is the only way the person in relationship with us can have all the information necessary to make his choice. Adam and Eve chose knowledge over perfection. The people of Israel chose indulgence in the worship of foreign gods made of wood and stone over submission to the One who chose them and rescued them and offered them His favor. People far too often choose the pain of violated boundaries over healthy relationship. This is true for God and sadly, it will be true for us too. Boundaries don't ensure that there is no violation. They simply lay out what will happen as a result.
Next Week
The Bible tells us in Ephesians 5:1-5 that we are to be imitators of God. So far we've established 5 principles our awesome God keeps when establishing boundaries, so as imitators of Him, we need to do the same. We need to:
Be sure our boundaries stem from an understanding of who we are in Christ. They need to reflect the character and position of a dearly loved daughter of the Lord God almighty – created in His image, purchased for a price, and set apart as holy for Him.
Establish boundaries with the intent to draw others in not push them away. We need to do a heart check and make sure we're not simply trying to punish. After all, the Bible says vengeance belongs to the Lord.
Set up our boundaries not to control others, but to offer them a choice. They can choose to honor our borders, or they can choose to forfeit their rights to be welcomed inside those borders. It's up to them.
Be wholly committed to clearly communicating our boundaries, and the reasons behind them every single time. We can not ever again assume that someone "just knows."
Be equally committed to clearly defining the consequences to a violated border. No one should ever have to guess again what will happen if…
Next week we'll add to this list with 5 more principles for establishing healthy boundaries learned from the example of God in Scripture.
*How about you? What do you think about these verses and the principles I've drawn from them? I'd love to hear your thoughts in the comments below!
---
Did you know all the content in this series has been expanded into an interactive workbook full of questions and prompts to help you work through this issue in your own life? Click through the image below and get yours today!
---
---
**If you'd like to receive an email from His Dearly Loved Daughter once a week informing you of new posts, and keeping you up to date on all that is happening with the ministry, subscribe by clicking the button below and filling out the form. Please check our privacy policy to learn what information is collected and stored. Thank-you, and God bless!
***Unless otherwise indicated, all Scripture quotations are taken from the Holy Bible, New Living Translation, copyright © 1996, 2004, 2007 by Tyndale House Foundation. Used by permission of Tyndale House Publishers, Inc., Carol Stream, Illinois 60188. All rights reserved.

****If you were blessed by this article, please save and share it on social media using the buttons below, or, post our quotes to Twitter by clicking the "click to tweet" boxes in the body of the post.