Finding healing in Christ after intimate betrayal.
Oh Lord if You heal me, I will be truly healed; if You save me, I will be truly saved. My praises are for You alone. - Jeremiah 17:14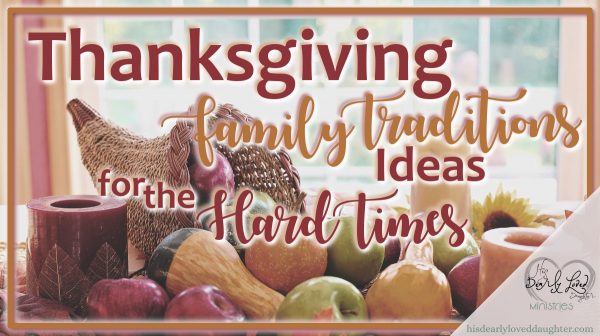 I love thanksgiving! It's my favorite holiday. I look forward to our Thanksgiving family traditions more than any of the habits and rituals surrounding the other special family celebrations. But sometimes the holidays are hard, and when families are fractured by sin and addiction we don't always feel like spending a day giving thanks. The thing is, these are often the most important times for us to make the choice to adjust our attitudes and ...
Read More
Looking for something specific? Choose your topic:
Hope for Today is our daily devotional feature here at His Dearly Loved Daughter Ministries.
Each day you'll find a different passage from Scripture along with a short encouragement designed to help us lean into God as we heal.
Betrayal, addiction, and relationship trauma can leave us wrecked, but we know the Lord is our true Healer, and our Source of help and comfort. May we seek Him daily!
Let the morning bring me word of Your unfailing love for I have put my trust in You. Show me the way I should go, for to You I entrust my life. Psalms 143:8
On the "His Dearly Loved Daughter" blog you will find new posts every Monday covering topics such as Healing from Betrayal Trauma and Recovering from Sexual Addictions. If intimate betrayal has wrecked your life, we're here to tell you, you are not alone. Through Our Story, we'll come alongside you with hope and encouragement and some much needed honesty and truth to help you as you learn to find your Identity in Christ and heal personally, and also as you work to Restore your Broken Marriage.
Betrayal does not have to be the thing that ruins you. There is healing in Christ my friend!
Check out our latest posts:
Need Support? Join our Facebook Group
His Dearly Loved Daughters is a secret Facebook group for women who are passionate about seeking and following God as they heal from betrayal trauma. If this describes you, and you're eager to connect with other women in the same place, message me today on Facebook, and we'll get you added!
We've gathered tons of helpful resources from all over the internet to help you as you pursue healing from intimate betrayal. So click through to our Resources Page to find all that information.
If what you're looking for is one of our resources, like one of our free downloads, or the Biblical Boundaries Workbook click through to the HDLD Resource Library.