Finding my identity in the God who heals me.
Oh Lord if You heal me, I will be truly healed; if You save me, I will be truly saved.
My praises are for You alone. -Jeremiah 17:14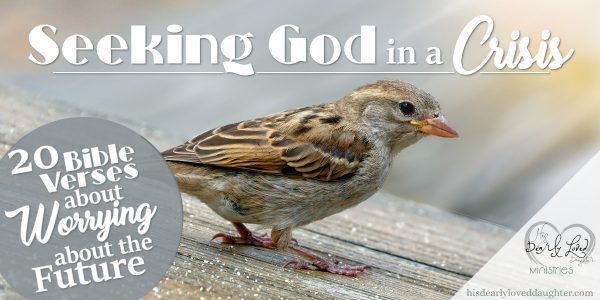 Seeking God in a Crisis: Bible Verses About Worrying About the Future As this post goes live, (early spring 2020 in the middle of a world-wide pandemic) fear and worry dominate the thoughts of much of the world in a way we're not used to. It can feel like things are upside down and all creation has gone mad. But the truth is, even though the global nature of this crisis makes this situation unique ...
Read More
Since January of 2017, His Dearly Loved Daughter Ministries has been sharing the hope and healing we've found and are finding in Jesus Christ, our Jehovah Rapha.

Hey, I'm Cherith, and it is my privilege to share the incredible work God is doing in my life. From a place of absolute brokenness, I am being remade as I'm finding my identity in the God who heals me. He's teaching me that who I am is all wrapped up in who He is, and who He has made me to be. I am His daughter, and I am dearly loved.
If you've ever felt completely alone, unlovable, and broken beyond repair, I hope you'll join me on this journey. Our Jehovah Rapha is calling!
Have you seen our daily devotional feature, Hope For Today? It includes a Scripture passage, verse of the day, and a short encouragement designed to help us lean into God as we heal.
Deep pain and brokenness have a way of making Bible study difficult, but as I'm finding my identity in the God who heals me, I find my hunger for His Word only deepens.
We know the Lord is our true Healer, and our Source of help and comfort.
May we seek Him daily!
*Click on the verse image to check it out!
Let the morning bring me word of Your unfailing love for I have put my trust in You. Show me the way I should go, for to You I entrust my life. Psalms 143:8 (NIV)
Resources for finding my identity in the God who heals me.
Need Support?
Join one of our Facebook Groups
Join a community of like-minded women seeking identity in the God who heals. Whether you are healing from betrayal, or some other brokenness, we have a group for you. Contact us today to get connected to the right one.
Find links to all our resources in our Resource Library
Check out our first book! Available on Amazon.
Looking for a speaker for your next event? From ladies' retreats, to marriage seminars, to men's events, we can share as a team, or just one of us on topics from the dangers of pornography, to Biblical boundaries, to identity in Christ.
Contact us Today!