Welcome to the Redeeming Thanksgiving series. Our goal here is to take back this precious time of year. Trauma, bad memories, lies, and so many other things have been used by the enemy to ruin a time meant for God. We're cultivating thankfulness within our hearts so we can learn how to praise God in difficult times.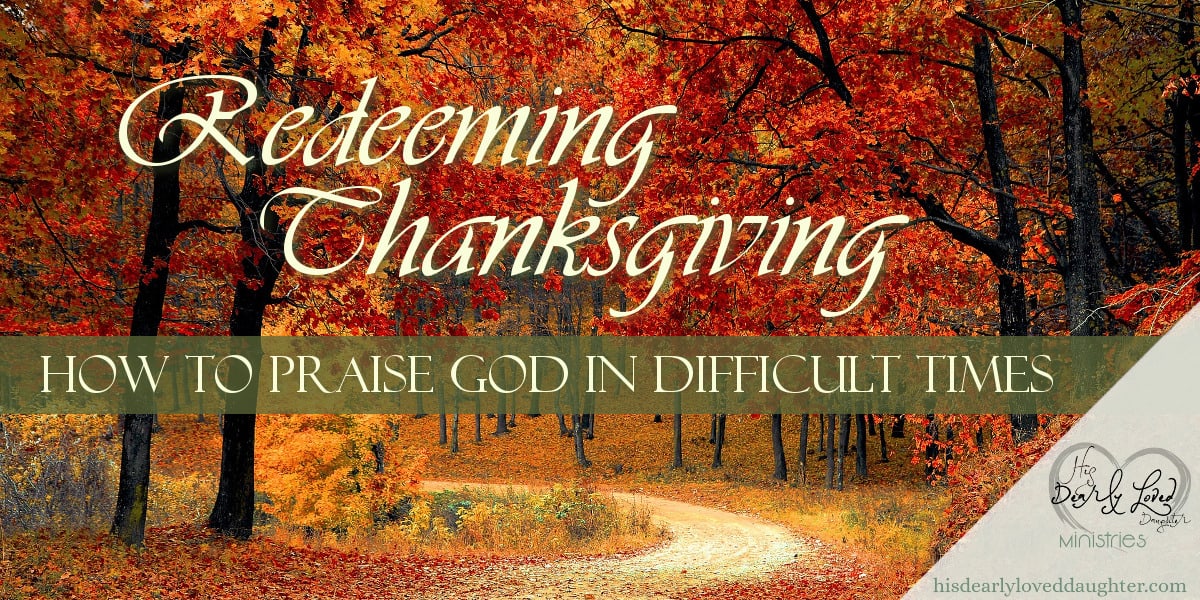 Our praise is powerful! Let's use it as a weapon and live for God's glory, no matter what!
The Redeeming Thanksgiving Series

:
How to Praise God in Difficult Times
I tell my own story of brokenness through the Thanksgiving season, and how God restored. Using Psalm 34, we see how cultivating a thankful heart opens the floodgates of God's restoring power. If we want to know how to praise God in difficult times, this is where we start!
When life is miserable, and hope seems lost, we find that living a thankful life offers the fuel we need to find joy again. Will we choose to be content or contentious? Will we learn how to praise God in difficult times?
People the world over are searching for peace. But there is only one peace that lasts, and that is the peace of God that passes understanding. We're looking to Scripture to learn how a thankful heart will lead us to the peace of God.
There is this incredible little story tucked into the Old Testament that offers a glimpse into the power of praise in the Bible. If understanding the power of praise to defeat your own enemies is what you seek, this story is a great place to start!
Closing out this series on how to praise God in difficult times, we're learning all about how we can receive God's blessings, and how it all starts with having a thankful heart.
Other Thanksgiving Posts about
How to Praise God in Difficult Times
Looking for Scripture to help you in your quest to redeem Thanksgiving? Check out these
If this is a hard year for you and your family, here are some ideas for how to praise God in difficult times using Thanksgiving family traditions to inspire your spirit of gratitude.
Through the month of November, our daily devotional feature, Hope for Today is focusing on passages of Scripture that inspire us to praise God in difficult times. Below you'll find just a few of the verses found in the Bible Study through the month of November.
Download and Print these FREE Thanksgiving Coloring Pages
or This Beautiful Thanksgiving Prayer.
Use them as gifts at each place setting at your Thanksgiving table!