How to Get Started with In-Depth Bible Study
What does your personal Bible study look like? If you're familiar with this blog at all, it's no secret to you that I am completely in love with the Word of God! I have spent my life reading and studying it, falling deeper and deeper in love with its life-giving words, and with the One who gave them. My primary mission in writing is, and has always been, to point others to its truth in hopes that it will provide the hope and healing to others that it has brought to me and to my love.
I spend a lot of time showing you what the Bible says about a lot of things, but I think it's high time I challenge you to learn how to go find those truths for yourselves!
*This post contains affiliate links click here for full disclosure statement.
When You Wanna Go Deeper into the Word, but You're not Sure How.
Friends, are you reading the Word? Every day? I really hope you are! It is life to our weary souls!
And I'm not talking about reading Bible studies written by someone else either. Don't get me wrong, there are some fantastic resources out there, and some wonderful Bible teachers. I love Beth Moore, and Priscilla Shirer, and Kay Arthur, and so many others! But there is just nothing that compares to reading the Bible itself on your own without the influence of another person's opinion!
If you are a born again believer, then you have the Holy Spirit of God living in you and He is all you need to understand the Bible. Ask Him for wisdom. Ask Him for understanding. The Bible promises that He'll give it. Then, dig in! Read it! You will never, ever regret it! I promise you.
But, if like so many others I've talked to, you're just not sure where to start, let me offer a few tips
1. Have a Plan
Don't just sit down and open your Bible every day and start reading wherever you land. There are times when doing that can be really beneficial, but it's not a great way to make a regular Bible-study habit. I suggest finding a plan that you can work through. There are several options for how exactly to do this and resources to go along with each one.
1. Study a Book of the Bible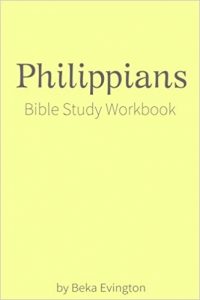 This can be a great way to get started if you're not quite ready to jump into a full read through of the whole Bible, or even the New Testament. There are lots of resources out there to help you do this, such as:
This workbook through the book of Philippians is such a wonderful tool for anyone who wants to learn how to study the Bible for herself. It's not like other Bible studies you've likely done. Instead of a bunch of commentary from the author, you'll find a compilation of questions, charts, bible writing and journaling prompts, and so much more all designed to guide you into deeper study. In other words, it's a workbook specifically written to walk you through your own comprehensive study of the book of Philippians! Isn't that perfect?
I really cannot more highly recommend this study. I know you will be blessed by it. Buy it today! Just click the photo of the workbook.
2. Find a Read-Through the Bible Plan
Once you've worked your way through the Philippians workbook, and know better how to study the Bible yourself, I highly recommend you read through the whole Bible at least once. This is how I regularly read the Bible. I have a plan that I love. It's called The One Year Bible. I use The Bible App by YouVersion on my phone. It keeps track of my progress through the plan for me. I love it!
There are also chronological plans that take you through the Bible in chronological order. Reading it this way is really beneficial to do at least once in your life to get a good feel for how the whole timeline fits together.
Some plans cover just the New Testament, or just the Old Testament, and some plans take you straight through the whole Bible from Genesis through Revelation. That's how I read the Bible for a lot of years, and it was good…. but when I found The One Year Bible, I never went back. This plan includes a few chapters from the Old Testament, (starting in Genesis and going through Malachi, minus Psalms and Proverbs) a chapter or two from the New Testament, (starting in Matthew and going through Revelation) a Psalm, and a verse or two from Proverbs each day. What I love about it is that when I'm working my way through some of the more difficult parts of the Bible like the second half of Exodus, or the 40 some chapters of Ezekiel, I get to read something else too. It's a great plan, and at the end of the year you will have read the WHOLE BIBLE! What could possibly be better than that?
2. Be Consistent
Find a time that works for you and read at the same time every single day. Don't skip the weekend. The more consistent you can be, the more likely it will be that you form a habit and it lasts. Forever!
3. Be Realistic, and Take Small Steps
If you've never consistently read your Bible before, don't start out thinking you're going to spend an hour in the Word every day. It's not realistic, and it won't last. You're setting yourself up for failure. Start small. The plans I've recommended are all conducive to spending between 15 minutes to half an hour in Bible study each day. Start there. Once you've been successful at making that a habit for three to six months, add more time, or deeper study. (Maybe use the charts Beka provides in the blog articles listed in #4 below)
Choose a time that's going to work for you. For years I tried to read my Bible first thing in the morning because for some reason I thought that's what I was "supposed" to do. The problem was, I'm a night person, and my brain is just totally numb in the mornings. I found it very difficult to be consistent, and even when I was I got very little out of the time. I found myself re-reading the same passages over and over and not being able to get my brain to process it. When I finally decided to stop worrying about what I was "supposed" to do and just work with who God designed me to be things got a lot better! Now I read at night just before I go to bed. My mind is sharp, the house is quiet, and it's a time that exists every single day. (No matter where I am or what I have going on – I always go to bed! So there's always the 30 minutes before I go to bed.) It just works for me. And I LOVE my special time with God! Find what works for you!
The point is, be realistic. Set manageable, bite-sized goals and just move forward one step at a time.
4. Use the Resources and Tools Available to Help You.
There are so many tools and resources available for us as we study the Bible! Use them!
*Go to the app store on your phone and download a few of the MANY apps available to help you. My #1 recommendation, as I've already said is The Bible App by YouVersion.
*Do a quick google search for "verses about…." whatever topic you're looking to study and just follow the trail of verses through the Bible to see what God teaches you.
*If journaling is your thing, go to Pinterest and type "Bible journaling" into the search bar. There are tons of bloggers out there to inspire you!
*Type a word or topic into the search bar in the bible app, or on biblegateway.com. and work your way through the verses it brings up.
Whatever you decide to do – just do something! Friends, this is the most important thing you can do after salvation to guarantee a life of victory! God has given us a treasure more precious than anything. His very own Word! Let's spend our lives devouring it!
YOU CAN DO THIS!!!!
---
**If you'd like to receive an email from His Dearly Loved Daughter once a week informing you of new posts, and keeping you up to date on all that is happening with the ministry, subscribe by clicking the button below and filling out the form. Please check our privacy policy to learn what information is collected and stored. Thank-you, and God bless!
***Unless otherwise indicated, all Scripture quotations are taken from the Holy Bible, New Living Translation, copyright © 1996, 2004, 2007 by Tyndale House Foundation. Used by permission of Tyndale House Publishers, Inc., Carol Stream, Illinois 60188. All rights reserved.

****If you were blessed by this article, please save and share it on social media using the buttons below, or, post our quotes to Twitter by clicking the "click to tweet" boxes in the body of the post.