Does God Care If I Make Time for Rest?
We've spent the past two weeks examining the topic of self-care from a Biblical perspective. We learned from the example of Jesus that it is vital for believers to make time to get alone with God on a very regular basis. We learned that good, God-honoring self-care always includes time to draw closer to Him, and to develop our spiritual disciplines. Though, this shouldn't get in the way of occasional spontaneous opportunities to change our schedule and show compassion. We also learned that our definition of "self" is likely a little smaller than God intends. As believers, we're part of the body of Christ, which means that taking care of our bodies will include taking care of the church. (And as one comment so perfectly pointed out last week, taking care of our body will also include GOING TO the church for care when we need it.) Today, let's look at what the Bible has to say about rest, and how that fits in to good self-care. 
Understanding our Design
Genesis 2:1-3 – So the creation of the heavens and the earth and everything in them was completed. On the seventh day God had finished His work of creation, so He rested from all His work. And God blessed the seventh day and declared it holy, because it was the day when He rested from all His work of creation. 
Exodus 20:8-11 – Remember to observe the Sabbath day by keeping it holy. You have six days each week for your ordinary work, but the seventh day is a Sabbath day of rest dedicated to the Lord your God. On that day no one in your household may do any work. This includes you, your sons and daughters, your male and female servants, your livestock, and any foreigners living among you. For in six days the Lord made the heavens, the earth, the sea, and everything in them; but on the seventh day He rested. That is why the Lord blessed the Sabbath day and set it apart as holy. 
Mark 2:27-28 – Then Jesus said to them, "The Sabbath was made to meet the needs of people, and not people to meet the requirements of the Sabbath. So the Son of Man is Lord, even over the Sabbath! 
We were designed in the image of God, and God made time for rest! Not only did He make time for His own rest, but He commanded His people to make time for their rest as well.  
We're all so fallen, though, aren't we? Throughout time we've muddied the concept of Sabbath rest from one extreme to the other. Friends, the fact is, rest is not something we need to do in order to check a box off a list of "Christian should-dos," and it's not something we should throw out in the name of "freedom in Christ," or in our constant pursuit of more. It is simply something we were created to need.
God, in His tender care built the solution to that need into His plan. For six days, we work. On the seventh day, we rest. Period. Even when life is hectic, heck, ESPECIALLY when life is hectic, we need that day. To neglect ourselves in this area is to be disobedient to God. 
We were created to need rest, and commanded to make time for it. To neglect this is to be disobedient to God.
Click To Tweet
Exodus 34:21 – You have six days each week for your ordinary work, but on the seventh day you must stop working, even during the seasons of plowing and harvest. 
Understanding the Source of True Rest
Psalms 127:1-2 – Unless the Lord builds a house, the work of the builders is wasted. Unless the Lord protects a city, guarding it with sentries will do no good. It is useless for you to work so hard from early morning until late at night, anxiously working for food to eat; for God gives rest to His loved ones. 
Oh how we humans strive to take care of ourselves! We work hard, we play hard, we analyze and evaluate and study and dissect, we think up lofty notions and eloquent proverbs, we rationalize and deduce, we pontificate and indoctrinate. All in the name of self-care, but we tend to leave out one KEY component. God. All our striving will be in vain if our source does not spring forth from the Rock of Ages! We will find our rest only when we hide ourselves in His love. 
Matthew 11:28-30 – Then Jesus said, "Come to Me, all of you who are weary and carry heavy burdens, and I will give you rest. Take my yoke upon you. Let me teach you because I am humble and gentle at heart, and you will find rest for your souls. For my yoke is easy to bear, and the burden I give you is light. 
I for one can testify to the truth in these verses! I am by nature an independent person. Since I was a little girl, I have wanted to do it for myself. No matter what "it" happened to be. I don't like to think there are things I can't handle, but life has taught me that not only are there things I can't handle, there is nothing I CAN handle on my own. I NEED Jesus! I can struggle under the weight of this life trying to stand on my own and move forward, but it will be in vein. On the other hand, I can choose to give up my striving, and hand over my heavy burdens to Jehovah-jireh. (the Lord will provide) This simple act will bring rest to my weary soul every single time. So why do I ever choose anything else?  
More than at any other time in my life, this past year has taught me that God can give rest in absolutely any circumstance. He has given me a calm within my soul on the darkest of days. A peace that knows He will go ahead of me. That He will never fail me or abandon me. This confidence makes me fearless, and that fearlessness leads to true, life-giving, soul-renewing rest! Click To Tweet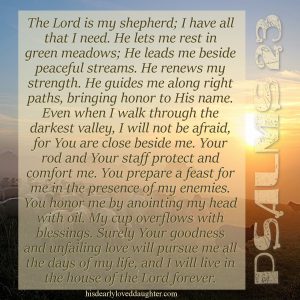 I lift my voice in worship to the Good Shepherd – the One who gives me all that I need, guides me along the right path, protects and comforts me in the darkest valleys, showers me with blessings and prepares an everlasting place for me as the daughter that He dearly loves. Truly He does lead me beside peaceful streams and grant me rest, for I will be secure in the house of the Lord FOREVER!
---
*How about you? Is Sabbath Rest something you make time for each week? What are some ways God has "led you beside the still waters" and given you rest?
**If you'd like to receive an email from His Dearly Loved Daughter once a week keeping you up to date on all that is happening with the ministry, subscribe by filling out the box below. Thank-you, and God bless!
***If you were blessed by this article, please save and share it on social media. Click the "P" on any of  the images below to save to Pinterest, the "click to tweet" boxes in the post above to share on Twitter, or use the buttons below to share on Facebook, StumbleUpon, or Google +.