Mary: The Tears Behind the Treasures of a Mother's Heart
What comes to mind when you think of Mary, the mother of Christ? My guess is that most of us have found inspiration in her story. She was a godly young lady. One we should all look to as an example and role model. We easily recognize the great honor she was given: selected from all the women throughout time to mother the Savior of the world! But have we pondered the trials of such a magnificent calling? I believe with some study and a little contemplation, a fuller appreciation for her story can help put into perspective the trials we're called to endure for the cause of Christ. Perhaps we'll realize that the very things that have brought us the deepest pain are, in fact, indications of the favor of God!
Luke 1:28-30 – Gabriel appeared to her and said, "Greetings, favored woman! The Lord is with you!" Confused and disturbed, Mary tried to think what the angel could mean. "Don't be afraid, Mary," the angel told her, "for you have found favor with God!"
I imagine as Mary lived her story she had to have sometimes questioned that favor, as I occasionally do. She had to have felt that God's plan often seems strange and maybe even a little unfair. From inside each of our stories, it's hard to see the big picture. When I read the accounts of Bible characters, like Mary, I have the advantageous perspectives of both time and completion. I didn't have to live those stories. I wasn't stuck in the minutia, and I didn't ever have to experience them without a knowledge of the ending. If I take the time to place myself into those narratives – to imagine the details and to feel what they likely felt, it brings great comfort to my own pain and uncertainty. I suddenly realize my story may turn out to bear witness to the mighty work of Christ too.
When it was all said and done, I seriously doubt Mary would have chosen any other role, even knowing the trials. When I reflect on that truth, I'm able to see that when my chapter comes to an end and I'm able to see the whole picture, it's quite possible I'd choose my trials again and again as well. It's likely that I'd endure anything in order to play the part God has chosen for me in His magnificent saga! In fact, one day, both you and I will likely be able to see that though there were tears behind our treasures, our lives were reflections of the favor of God, just like Mary.
Being the mother of the Christ was not an easy calling. But when it was all said and done, I seriously doubt Mary would have chosen any other role, even knowing the trials.
Click To Tweet
When Faithful, Pure, and Chosen by God Leads to Pain and Rejection
There isn't really a whole lot written about Mary in the Bible, but we can learn a lot from the little bit there is. We can clearly see that she was a devoted follower of God, a woman of purity and integrity, and a champion of faith! It's also clear that the way God chose to set out the events of her life left her open and vulnerable to a great deal of ridicule and rejection. If you'd like to take a minute to read the first chapters of both Luke and Matthew right now, it will help give context to some of what I'm going to talk about here. I'll include a few excerpts, as always, but a quick reading of the full chapters will offer insight.
From those 4 chapters, here's what we know, and what we can determine from those facts:
Both Mary and Joseph were members of the tribe of Judah and descendants of King David. It's also likely that Mary had some Levite ancestry, since we know Elizabeth was her cousin. Their heritage was noble and proud, and their families were likely well respected in their communities.
Both Mary and Joseph were people of integrity and character – well versed in Scripture and obedient to God. They would have had impeccable reputations, which was likely why they were chosen for each other.
They were betrothed. (or engaged) A relationship which, in that time, would have been arranged and was contractually binding, requiring a legal divorce to terminate. To become pregnant during this time, though not unheard of, would have been a great disgrace to the family.
To become pregnant during this time by someone other than Joseph would have been considered adultery on Mary's part. This sin was punishable by death, though divorce and public humiliation were a more common practice.
Though their union would have been arranged, the Bible tells us that Joseph loved Mary. I think it's safe to assume the feeling was mutual.
After Mary found out that she would become pregnant through the power of the Holy Spirit, she went to visit her relative, Elizabeth and stayed with her for 3 months.
It wasn't until Mary returned home from this stay with Elizabeth that she told Joseph she was pregnant. (She would have been 3 months along by then)
After the angel told Joseph to take Mary as his wife anyway, He married her the next day.
Beyond those facts, we can assume that since Mary went to stay with Elizabeth for 3 months, by the time she got home and married Joseph it was too late for there to be any appearance of propriety in their situation. Jesus would have been born after they had been married for only 6 months. The people could do the math. From their perspective, either Mary had been unfaithful to Joseph, or they had been intimate outside of wedlock. Either way, the baby she carried would have been considered a disgrace. When Joseph chose to marry her anyway, it suggested to the rest of the world that the baby was his, so they would have brought shame on both their families.
What's hard to understand about this is, if the angel had just appeared to Joseph right away, after he appeared to Mary, they could have gotten married at the very beginning of her pregnancy and there would have been no appearance of impurity. So why did God's plan include those 3 months of waiting? Why was Mary asked to endure the shame of a sullied reputation for the rest of her life simply because she agreed to carry and give birth to the Messiah? It doesn't seem fair. Does it?
And yet, the Bible records no objections from Mary. We're not told of a single, "But God…" escaping her lips. Before she even knew how Joseph would respond, she humbly conveys her willingness to do whatever is asked of her. Without question.
Luke 1:38 – Mary responded, "I am the Lord's servant. May everything you have said about me come true." And then the angel left her.
When the Swords that Pierce Her Soul become the Treasures of a Mother's Heart
I'd like to be able to tell you the difficulties of Mary's story ended once Joseph decided to believe the angel's promise and take Mary as his wife. I want to tell you the worst things she suffered were the smug, disapproving looks of friends and acquaintances. Unfortunately, raising the Son of God wasn't as easy as it sounds.
Life for Mary and Joseph was one strange occurrence after another. From giving birth in a stable, to fleeing to Egypt in the dead of night, to believing they'd lost the Son of God in a crowd, the early years of Jesus's life were anything but ordinary. Still, as Mary observed each event the Bible records her continued obedience and humility with these words, "His mother treasured all these things and pondered them in her heart."
Life for Mary and Joseph was one strange occurrence after another. Still, they continued in obedience and humility as Mary treasured all these things and pondered them in her heart.
Click To Tweet
After that, it's believed that Joseph died, and Mary was left a widow at a very young age. As Jesus's earthly ministry began, she was left alone to deal with the rest of her children who did not believe Jesus was the Messiah, but rather thought He was crazy. She had to watch and listen as the people of their hometown rejected her son, believing Him to be, at best, a lunatic, and at worst, a blasphemer and a devil.
Worst of all, she had to stand by and watch as her precious Son, the One she knew was God became flesh, was tried, convicted, beaten and killed. Knowing that it was for her sins that He hung on that cross. Days after Jesus was born, when Mary and Joseph had taken Jesus to the temple to be dedicated to the Lord, Simeon the prophet warned Mary that her calling wasn't going to be easy.
Luke 2:34-35 – Then Simeon blessed them, and he said to Mary, the baby's mother, "This child is destined to cause many in Israel to fall, and many others to rise. He has been sent as a sign from God, but many will oppose Him. As a result, the deepest thoughts of many hearts will be revealed. And a sword will pierce your very soul."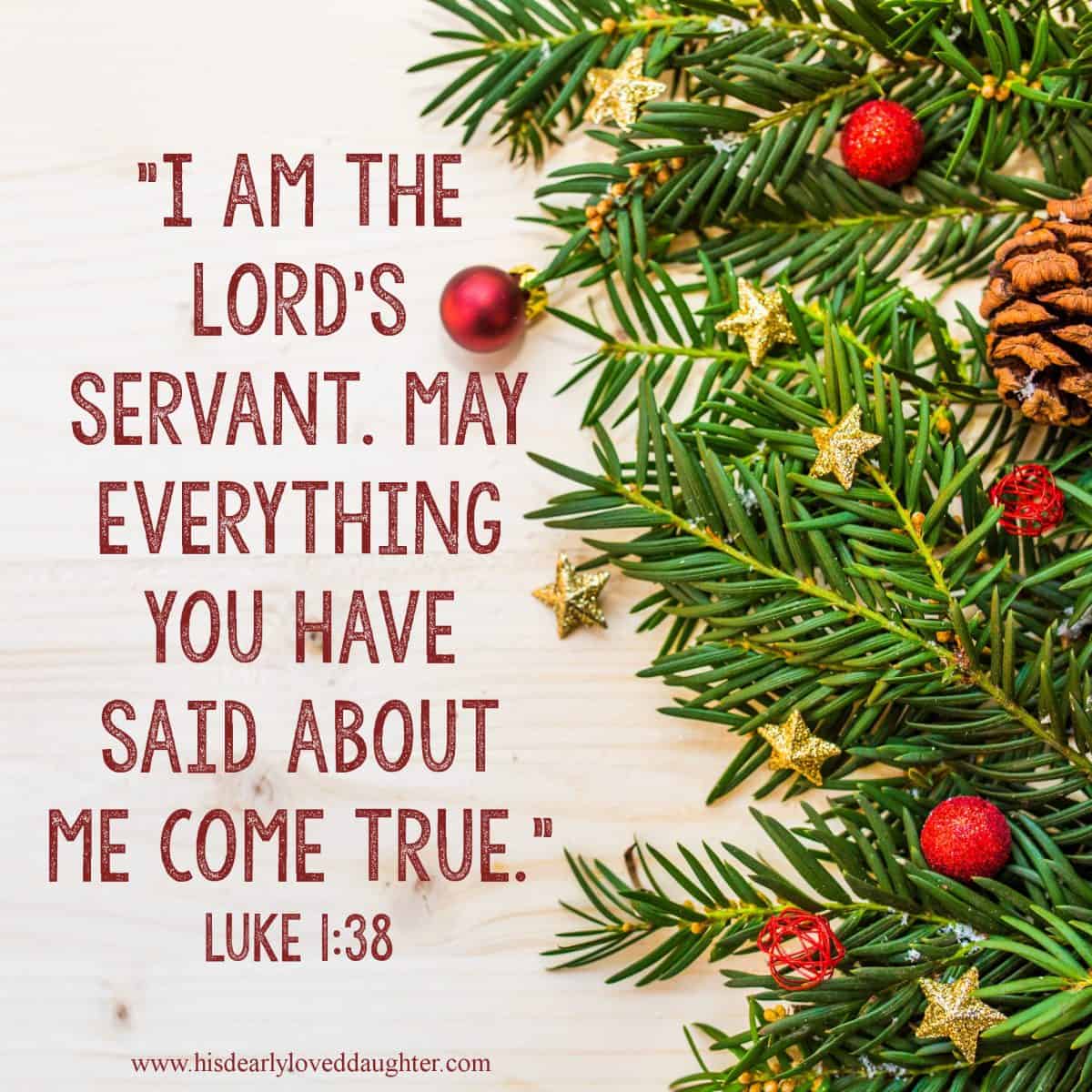 What Will We Choose to Treasure in Our Hearts?
I can't wrap this all up in a nice neat bow for you. Things never got easier for Mary. Sure, Jesus was resurrected, and I'm certain there was great joy for her on that day. But there was significant persecution for those who chose to believe in Jesus and follow Him. Mary saw her children, who had previously rejected their brother's Lordship, become believers and then lose their lives as some of the early Christian martyrs. Her life serves as a testimony that the favor of God often does not result in a life of ease and comfort
And yet, her life also demonstrates a fundamental truth in the life of a believer: Everything in our lives, whether it be joyous or painful, is part of God's plan which is working together for our great good. Beyond that, our stories are part of something even bigger. Our pain may end up being the catalyst to the redemption of many others.
What if Mary had said no? What if she had rejected the opportunity to be the mother of the Lord? She may have had a much easier life. But… she would have missed out on being a critical part of the greatest story ever told! She would have missed out on God's plan for her. Millions of people throughout time wouldn't look back at her life in gratitude, understanding that their salvation was made possible because she was a willing servant of the Lord. No matter the cost.
I hope to live my life with the same willingness. Though I have shed many tears, I want to treasure in my heart each moment, for God is clearly working! I want to ponder them there, as Mary did, choosing to trust God's sovereignty. Will you do the same? Will you dare to believe in His grander plan? Will you offer yourself in humility as a servant to His will? Oh, I hope so friend. For if you do, you will surely look back one day with sincere gratitude coupled with the awe and wonder of a life lived in His favor!
*How about you? How does Mary's life and story inspire you to live out your calling? What does it mean to you to know how she suffered?
---
**If you'd like to receive an email from His Dearly Loved Daughter once a week informing you of new posts, and keeping you up to date on all that is happening with the ministry, subscribe by clicking the button below and filling out the form. Please check our privacy policy to learn what information is collected and stored. Thank-you, and God bless!
***Unless otherwise indicated, all Scripture quotations are taken from the Holy Bible, New Living Translation, copyright © 1996, 2004, 2007 by Tyndale House Foundation. Used by permission of Tyndale House Publishers, Inc., Carol Stream, Illinois 60188. All rights reserved.

****If you were blessed by this article, please save and share it on social media using the buttons below, or, post our quotes to Twitter by clicking the "click to tweet" boxes in the body of the post.