Intro by Esther Hosea
Welcome to the very first ever guest post here on His Dearly Loved Daughter! Thanks so much to Bailey Suzio from The Thin Place for blessing us with this wonderful challenge to cultivate a longing for the return of Christ!
To my readers,
Bailey is going to talk about living with a sense of longing. She's going to describe the way we live – waiting for the day when Christ will return to right all wrongs. Precious sisters, I know that many of us know far too well what it is to live with yearning. We know what it is to wait for God to fulfill His promises. We know the difficulties that come along with that longing – the challenges to our faith, and the temptation to fear the future. But I think for us, more than anyone else, Bailey's beautiful description of the Advent season will resonate and carry great importance. As we prepare for Christmas this year, may we remember that God doesn't always show up in the way we expected Him to, just as the baby Jesus was not at all what the world was expecting. Yet God's plans are always good and right and filled with hope and purpose and redemption. May we treasure this time and restore our hope in His perfect plan! May we willingly wait with genuine longing for all He is going to do. Both in our lives here on this earth and with Him in glory forevermore!
I hope you'll use the free resource Bailey has offered us along with me this Advent season! What a beautiful way to focus on HIM – our precious Lord and Savior! Enjoy!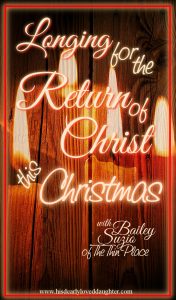 Guest Post by Bailey Suzio:
Longing for the Return of Christ this Christmas
Christmas is coming. There are twinkling lights and glistening green and red all over the stores to tell us so. If you're like me, you've been waiting all year to make your home ready for the season. Every year, beginning in October, I start the countdown to when it is socially acceptable to listen to Christmas music. I want to rush straight from Halloween and Thanksgiving to celebrating the baby Jesus in the manger.
But historically, that is not how the Church has recognized the season. Christ's birth was announced thousands of years before He came. For centuries, God whispered through the prophets hints at what the long-awaited Messiah's coming would look like.
Much of the Old Testament, much of the history of God's people, is filled with this longing for the revelation of the promised deliverer. Click To Tweet
Then, on that day in Bethlehem, He came. There wasn't a parade or a national day of celebration declared. There were no grand halls or banquets. He was born in a stable. His first visitors, shepherds.
His life was relatively short in the history of the world, only 33 years.
And again, God's people are in a time of waiting, longing for the promised Deliverer to return to restore all He has promised.
The early Church recognized that we needed to remember these periods of longing because much of our experience on this Earth is filled with longing. Advent, the season in the Church Calendar which precedes Christmas, helps us remember this longing.
For the four Sundays leading up to Christmas Day, we light the Advent candles and are called to stop and remember the period of darkness before the Light of the World put on flesh and dwelt among us. It is a time to dedicate ourselves to pray and to prepare our hearts for the arrival of the Christ, Click To Tweeteven as we prepare ourselves for His second coming.
It is very counter-cultural to stop and hold off on celebrating to cultivate a season of longing. We are an impatient people. We want the celebration without acknowledging the yearning that preceded it. But our joy is strengthened when we remember the longing felt by generation after generation who waited and pleaded for the arrival of Jesus.
Advent is important because it mirrors the season believers today find themselves in. We know God has promised to come again and right all wrongs but, right now, He isn't here. We are in an in between where we believe and are looking for His coming Kingdom. We wait and plead and pray for the return of Christ.
And He will come.
This year, instead of rushing into the celebration that Christmas brings, let us stop and prepare our hearts for the return of Jesus even as we remember the preparation for His first arrival.
I am doing that by centering myself around who He is and what He has done through a study on the names of Jesus. He has revealed Himself throughout the Scriptures by many names and each one carries profound meaning and implications on our life today.
Join me from the first Sunday of Advent, December 3rd, until Christmas Day in this study through my new free eBook, His Name Shall Be Called.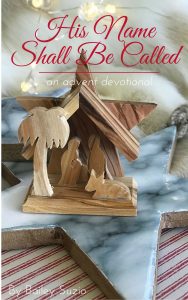 It is my hope that this tool will help you remember that the longing we feel has been felt by many generations and that God always, always keeps His promises.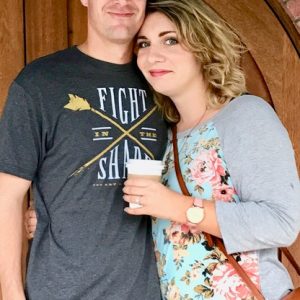 Bailey's journey began in Michigan, where she grew up as the oldest of 10 (yes, ten) children, and has led her to Hawaii and back again with her husband and two dogs. After spending a few years in Hawaii working for a local church, Bailey developed a passion for Church history and the liturgical calendar. She loves drinking excessive amounts of coffee, collecting old books, and camping. She writes at
The Thin Place
about her faith, hospitality, and fertility journey."