A Poem of Thanksgiving 
I'm going to do something a little different this week. Bear with me. Life has been moving so fast lately. I feel like Bilbo described in The Lord of the Rings, "Like butter scraped across too much bread."  
So I'm going to take a moment and just breathe. 
I'm going to take time to reflect on my God, and to praise Him. 
Through the month of November, I will be doing a series on Redeeming Thanksgiving, but I thought it would be fun to get us in the mood a little early this year with a poem written from my heart to the Lord. Enjoy.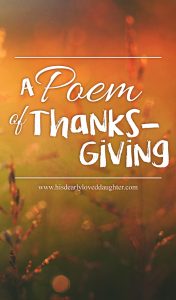 When life speeds up, and anxieties rise
And I feel like I'll never be enough
I am reminded, Lord, of the love in Your eyes
And Your presence when life gets tough 
You've carried me through more than I thought I could bear
Pursued me through it all
You've restored my hope with Your love and care
Refused to let me fall 
I'm in awe of You, God. In awe of who You are
My words seem far too small
For One whose abiding love is never far
Help me answer every call 
I will praise You, Lord, with every breath
I will sing of Your Great Name
From this moment, God, until my death
May I live to spread Your fame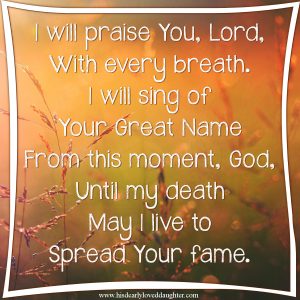 My wandering heart is prone to fail
And focus on me instead
Help me die to self and tell Your tale
'Till every hungry soul is fed 
May I praise You Lord through every storm
And from every mountain top
May my life stand out and not conform
For Your mercies never stop 
You're the only Way, the only Truth, You're the only Light
In this world where pains don't mend
So make me salt, make me light, help me fight Your fight
From now until the end 
I will praise You, Lord, with every breath
I will sing of Your Great Name
From this moment, God, until my death
May I live to spread Your fame