Blogger Recognition Award
Recently I received a blogger recognition award from another blogger who has become a dear virtual friend.  Beka, over at Grace to Soar, is a real-deal Christian blogger who God has used greatly to encourage and inspire me. From the very first time I read her honest, practical, God-honoring words I was hooked.  I liked her immediately.  I started commenting on her stuff and interacting with her on social media and before long we were friends!   Beka has been a cheer-leader to me from the very beginning. She never fails to send words of encouragement and validation, often at times when I'm feeling particularly vulnerable or discouraged.  God is using Beka in mighty ways, and not just in my life either!  Her blog's reach is growing, and people all over the world are finding the prompting they need to follow God with passionate abandon.  I am so glad I "met" her and I am so honored to call her, friend.
Beka, as always, you have so greatly encouraged me with this recognition.  I pray God blesses you greatly in your efforts at home, in your marriage, in your parenting, in your friendships, and in your ministry.  You are a blessing! I wish I could nominate you right back!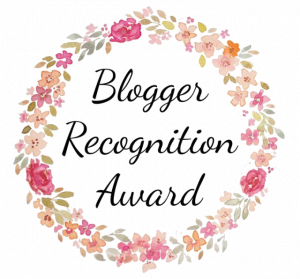 Here are the guidelines for this award.
Thank the blogger who nominated you and provide a link to their blog.
Write a post to show your award.
Give a brief story of how your blog started.
Give two pieces of advice to new bloggers.
Select (up to 15) other bloggers for this award.
Comment on each blog to let them know you nominated them and provide a link to the post you created.
How My Blog Started
I've always loved to write. It's been my dream since I was probably about six to write a book one day. All through high-school and college I was encouraged by teacher after teacher to pursue writing; assured that I had been blessed with a talent for the written word.  Unfortunately, I was not gifted with the kind of creativity that is required to write good fiction, and I couldn't ever seem to find my voice in the world of non-fiction.  I had a blog many years ago, but it just never went anywhere and eventually I lost interest and gave up.  That's where God's sovereign plan comes in.
2 Corinthians 1: 3-5 – All praise to God, the Father of our Lord Jesus Christ. God is our merciful Father and the source of all comfort.  He comforts us in all our troubles so that we can comfort others. When they are troubled, we will be able to give them the same comfort God has given us. For the more we suffer for Christ, the more God will shower us with His comfort through Christ.
Throughout the years and years of struggling through the issues that come from being married to a sex-addict, I constantly sought out resources to help me.  Unfortunately, I found there was precious little available that was both helpful and God-honoring.  I desperately wanted both.  Yet, I found almost nothing.  In spite of that, through it all, God was there. Right beside me.  Helping me and comforting me through His Word.
Then one day, out of nowhere, God just spoke to my heart, "Write about it.  It's time.  I want to use you to comfort others the way I've comforted you."
The following conversation went a little something like this:
ME – "But I have no idea how this is going to turn out.  I'm still in the middle of it. I still need to be comforted.  I can't help others when I still need help!"
GOD – "Trust me.  Start a blog. Be honest."
ME – "But they're going to want answers and I don't have any answers!"
GOD – "I AM the answer! Trust me. Be honest."
ME – "But God, I'm not an expert!"
GOD – "I AM! It's not about you, precious daughter.  Trust me.  Be honest."
So, with a great deal of uncertainty, I started a blog.  I committed to those two things He had asked of me: Trust Him, be honest.  And here I am, only a half of a year later and He has been so faithful! Not only has he used my writing to offer comfort to others, (as He asked me to do) but He has used it immensely to comfort me!  If there is one thing that I have taken away from this experience so far, it is an absolute sense of AWE for my God.  He is beyond anything I can even imagine. I am so very humbled that He chooses not only to love me, but to use me! Click To Tweet I am so, SO thankful to now and forever be, His dearly loved daughter! Click To Tweet
Advice for New Bloggers
If you've read much of my stuff, I hope you know that I can't give any advice that's better than the words of Scripture.  I wrote a whole post on Psalms 37, but this verse in particular has been an inspiration to all I've done on my short blogging journey.  I will let it speak for me:  
Work in community.  Find Facebook groups for bloggers.  I particularly love this one. Interact with the content you find there and make friends in the blogging world.  You will find so much help amongst this group of sisters.
My Nominees
And that brings me to my nominees. I really wanted to nominate Grace to Soar and Poema Chronicles, but others beat me to it.  You still should check them both out though.
Ladies, each and every one of you is a blessing, and I'm so thankful to have found you in this wide world of bloggers!  Thank-you to each of you for your dedication to God, your willingness to use the talents He's given you to impact the world, and your tender, compassionate hearts! You've all been such an encouragement to me.  Now go nominate some others and pass along the love!  Follow the rules mentioned above, and God bless you all!
---
*How about you? Have you had a chance to check out any of these amazing bloggers? Tell us how you've been blessed by them in the comments below!
**If you'd like to receive an email from His Dearly Loved Daughter once a week keeping you up to date on all that is happening with the ministry, subscribe by filling out the box below. Thank-you, and God bless!
**If you were blessed by this article, please save and share it on social media. Click the "P" on the image below to save to Pinterest, the "click to tweet" boxes in the post above to share on Twitter, or use the buttons below to share on Facebook, StumbleUpon, or Google +.