It has been a real joy for me to write this blog.  It has helped me more than words can express to process my own journey toward healing and to share it with others, all the while seeking to glorify God and to be an encouragement to those who read it.  I discovered something, though, as I've been writing:  The posts that brought me the greatest joy to write were the same posts that seemed to be the biggest encouragement to my readers.  They were the posts that were filled with scripture; the posts in which I allowed the Word of God to do the most important speaking.  I've also discovered a need as I've chatted with women around the world, all reeling in the aftermath of betrayal trauma.  So many of them long to draw closer to God, but as they drown in depression find themselves not knowing where to start.  That gave me an idea.
As we all face the obstacles in our lives, the most important thing we can do is seek God by looking to His Word. Click To Tweet I have the "verse of the day" widget on my phone from the YouVersion Bible App and I can't tell you how many times I have turned my phone on, looked down at the screen and read the verse of the day and found that it was exactly what I needed right in that moment.  So many times I felt like God had orchestrated that just for me.  So I thought, how cool would it be to do something kind of like that with the blog?  To find 365 passages that really speak to a healing heart and point back to the Great Physician, and to put some sort of daily encouragement out there for people.
So that's what we've done.  Hope For Today is now a daily feature.  Each morning (12:00 AM Eastern Time) there will be a new scripture passage followed by a few words of encouragement from me.  (These will each be accessible for only 24 hours, so come back daily to make sure you don't miss any.)  It is my prayer that God uses it to encourage and inspire us all to seek and to follow hard after Him.  He is the only true source of hope.  The only real provider of peace.  The only One who's love is genuine and complete and given freely to each of us.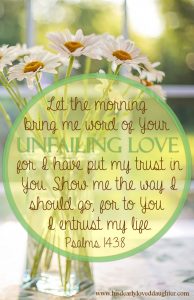 In addition to the daily feature here on the blog, I've also created a Facebook page to augment the value of a verse of the day. Each day, a beautiful image containing the verse of the day will be posted to the page. Like the page here to see these encouraging images in your feed each day.
One word of caution.  While I do hope this feature will serves as a jump start to anyone who doesn't know where to begin when studying the Bible,  it's not intended to take the place of much deeper and more extensive time in the Word.  I strongly encourage everyone to find a good Bible study plan, (I really like The One Year Bible plan.  The YouVersion Bible App has a great little tool to help you keep track of your reading and keep you up to date. After one year you will have read the whole Bible!)  and to spend at least a half hour every day alone with God.  If you're new to Bible study, you might want to start out just using Hope for Today as inspiration for deeper study.  Go to the daily passage in your own Bible and read what's around it in order to gain an understanding of the context.  Spend some time journaling what God reveals to you as you read. Finally, spend some time in intentional prayer, telling God what you need and thanking Him for what He has done.  Over time you will be ready for more, and Hope for Today will simply become what it is meant to be, a supplement to personal Bible study.  A tool to offer a quick source of encouragement, a daily challenge, and to inspire us to face our day with God in the driver's seat.  To remind us to live each day knowing exactly who we are – His dearly loved daughters!
Click here to read today's encouragement!
---
*If you'd like to receive an email from His Dearly Loved Daughter once a week keeping you up to date on all that is happening with the ministry, subscribe by filling out the box below. Thank-you, and God bless!
*If you were blessed by this article, please save and share it on social media. Click the "P" on any of  the images below to save to Pinterest, the "click to tweet" boxes in the post above to share on Twitter, or use the buttons below to share on Facebook, StumbleUpon, or Google +.