I know it seems like a ridiculous question to many of you: "Does God really love me?"  You think, "of course he does, He died for you!"  I know.  I get it. But I have a feeling there are others (probably a lot of others) who totally get it.  I have a feeling there are quite a few of you out there who, like me, have wrestled with this question throughout your lives.  I'm not going to pretend the struggle has completely resolved. Likely, I will continue to fight those thoughts for as long as I live.  But over this past year God has revealed so much to me about His love and I'd really like to tell you about it!
Down in the Pit
About a year ago, when I first found out about my husband's infidelity I felt a lot of things.  The most overwhelming, though, was the feeling that there was something wrong with me.  That I was unlovable.  I will go into my childhood more at some point, but all you need to know right now is that much of what happened to me caused me to feel as if I was unloved.  I would often wonder if I had been better; if I had done things that were more pleasing, would things have turned out differently?  When I got married I resolved to pour all of myself into our marriage.  To give it my very best and to love with my whole heart so I would never have to wonder, "what if I had just…" And still, it wasn't enough.
I would sit and wonder, "What is it?  What is it that's missing in me that causes the people who are supposed to love me to go another way?  What is it that makes them all choose other things?  Why isn't my heart worth protecting?"
And then that line of thinking would turn into questions about God.  I would think, "The Bible says that God is like a good father who would never give the child that He loves something bad when she was asking for something good. That He would never give them a stone when they asked for bread, for instance."  I would think, "I've spent so much time asking God for a healthy marriage that honors Him and brings glory to Him…it sort of feels like He's giving me a stone!  Maybe He doesn't really love me, maybe I'm not the child he loves.  Maybe, I'm so messed up, so unlovable that even God can't love me!"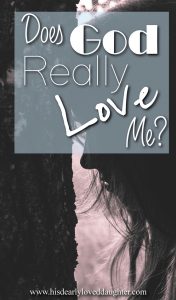 Deeper Down
Y'all there is nothing good that comes from thinking like that and I wish I could tell you that's where it stopped.  No.  Not even close.  I went a lot deeper into that pit.  Our enemy, the devil, is such a crafty liar! He even uses scripture to tempt us to believe his lies. Click To Tweet For more months than I would like to admit I wallowed down in the depths of that pit.  I read my Bible and found passages like Jeremiah 29:11 – you know, the one about God knowing the plans He has for us and those plans being to prosper us and not to harm us?  Anyhow, I would read verses like that and think, "Liar. (I know, right?  I should have been afraid for my life! I'm so thankful I serve a God who is patient with me, and who is faithful even when I am not!)  How is this prospering me?  This is harming me!  Your plans for me are harming me.  There is no future and no hope for my marriage, You are a liar!"
I have never been more miserable in all my life than I was during those terrible months!
Truth
Despite the fact that I was questioning everything and acting like an obstinate child, (throwing a tantrum, and facing off with my Daddy) I never stopped reading the Bible during this time.  In fact, I don't know if I've ever spent more time in the Word than I did during those months.  I found myself in Job one day, considering what had happened there.
Job did nothing wrong. In fact, the Bible says he was blameless!  I'm certainly not blameless, but I found the phrasing comforting.  The terrible things that happened to Job  weren't because there was something lacking in Job.  In fact, it was quite the opposite.  God allowed Job to face the trials that he endured BECAUSE he was so righteous.  It was to prove that his faith was not circumstantial.  To prove that Job believed God because of who God is, not because of what God had given him.  It takes big faith to stand firm in the midst of trials like that and God had confidence in Job – the child that he loved.  I was so encouraged by that thought!  Maybe… He loved me too?
Not too long after that I came across Romans 8:31-32:
What shall we say about such wonderful things as these? If God is for us, who can ever be against us?  Since He did not spare even His own Son, but gave Him up for us all…
Do you see what I saw in that moment?  I jumped over and read the accounts of Jesus just before he went to the cross.  When he was in the garden, praying.  When He was asking His Father to take the cup from Him. To spare Him. When my Lord and Savior was dreading the awful pain He was going to have to endure in order to accomplish the will of God. To fulfill the plan. To finish the story.
Now I don't know about you, but I have never doubted God's love for Jesus.  I've doubted a lot of things, but I've never doubted that.  I've also never thought, even for a second, that the pain Jesus endured on the cross was a result of anything wrong with Him.  He was perfect.  And yet, Romans says that God did not spare even Him from enduring the pain that would bring redemption to the world.   Wow!  How can I not trust him through my pain in light of that?
Reaching Out For His Hand
You know the story of Peter walking on the water?  Do you remember what happened?  He looked at the waves and suddenly started to sink.  He took his eyes off Jesus and found his faith floundering.  Then, before he could sink beneath the water for good, he reached out, took the hand of his Savior, and was able to resurface.
I don't really remember the exact moment when I reached out for His hand.  I wish I did.  But I know that as I contemplated those scriptures something in me finally broke.  Something in me grabbed a hold of the Truth of Scripture and looked the devil square in the face and said, "No!  YOU are the liar! I am choosing to believe God.  He says in His word that He loves me.  He says that He is working ALL THINGS together for the good of those that love Him and are called according to His purposes.  I may not see how this is for my good right now, I may not understand what He's doing, but I DO love Him, and I AM called according to His purposes.  So He IS working for my good!  The Bible says, 'This is love: not that we loved God, but that HE LOVED US and sent His Son as an atoning sacrifice for our sins.'  I'm believing God.  He does love me. He died for me.  Now get behind me Satan!"
BOOM! Drop the mic!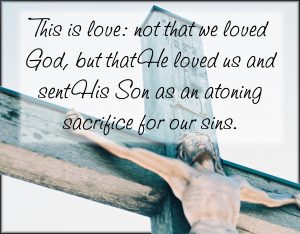 He Chose Me
The change in my heart was palpable.  Do I still sometimes struggle with feelings of being unloved or unlovable after that moment?  Yeah, sometimes I still do.  But they're greatly diminished.  As I began to hear God's voice again when I read scripture, I began to feel His sustaining power in my situation.  I began to trust that whatever He was doing in my life, I could trust Him to provide whatever I needed not only to face it, but to thrive in spite of it.  What a difference it made!  My prayer life changed, my attitude towards my love changed, everything about me changed. I no longer felt defeated. I felt empowered. God loved me. Nothing else mattered. Click To Tweet
A few months later, when I found myself facing the horrifying betrayal of my love's infidelities once again, I cried out to God in my brokenness.  The difference was subtle, but it was there in my heart.  I looked to my loving Father and I cried, "Oh, God, why?  I just want someone to love me.  I want someone to CHOOSE me!"
And as tangibly as if He had spoken the words aloud my God called me by name, "my dearly loved daughter, I chose you!"