Welcome to His Dearly Loved Daughter, I'm so glad you're here!  I'd like to take this opportunity to tell you a few things about me.  My story is not unique. It is the story of countless women all over the world and throughout time. Perhaps it's your story too.  I struggle to find my identity in a God who loves me passionately as I live my life loving a husband who has broken my heart over and over again in his battles to break free from sexual addiction.
This particular story is so isolating. If it is your story too then we need each other.  We need to know we aren't alone. To remind each other of God's love and faithfulness because it's easy to lose sight of when people are so unfaithful. If you are His daughter, dear sister, then you are DEARLY LOVED! Click To Tweet  Cling to that truth – it is the lifeblood that will get you through this battle and the next and that ultimately lets us all know, the war has already been won!
I am not an expert. I'm not coming to you as someone who has already won this war. I'm right in the thick of it.  When I started this blog in January of 2017, it had only been a month since I had caught my love in his most recent affair.  I'm not here to tell you what to do, I'm here to walk this painful road WITH you!  I'm here to share my story in hopes that it will be an encouragement to you.
I could be anyone.  We never really know what the person next to us is carrying!  That's why I've chosen to write this blog anonymously.  While it is our true story, it really could be anyone's story and I don't want it to be about me or my love. I want it to be about the God who sustains. The loving Father who carries me through and who can carry you through as well. It really is all about Him. I am simply the daughter He dearly loves. Click To Tweet
Finally, let me close by telling you a little bit about the name I chose to write under: Esther Hosea.
Hosea was an amazing man, called by God to love an unfaithful spouse in order to demonstrate to a nation that God loves and pursues His people despite their tendency to wander. The story reminds me that the pain I feel each time I am betrayed is felt by my Heavenly Father each time I wander from His perfect love.  Still,  He continues to pursue me and to love me. It inspires me to do the same.
Esther was just a regular young woman who found herself in the middle of a story that just didn't make any sense to her.  It was a story that required great courage and unwavering trust in God's sovereign plan.  It was a story that demanded obedience without the promise of a happy ending for her. In fact, that obedience could have cost her life!  Yet Esther chose to recognize that, as her wise uncle put it, perhaps she had been created for such a time as this. God doesn't make mistakes.  He has put each of us in the story we're in.  The pain isn't His doing, it is the result of sin, but He knew about the pain and He has a purpose and a plan.  I want to be bold, courageous, and obedient like Esther and Hosea and recognize that perhaps God created me for exactly this story and to trust that the ending He has written will bring glory to His mighty name!  Won't you join me?
If you'd like to get to know me and my love a little better before you explore some of my other posts, I recommend starting with Our Story.
---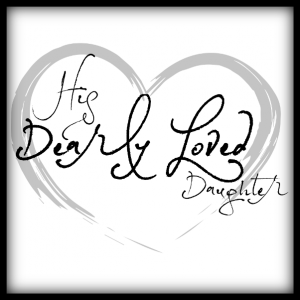 Disclosure Statement
His Dearly Loved Daughter is first and foremost a ministry.  I, Esther Hosea, write what I believe God is leading me to write.  I almost always pray before I pen a single word, and I pray many times throughout the writing process that God would lead me as I write. I ask that He would take those words and use them for His glory, and that He would take them to the right people.  More than anything else, I want to honor God in what I do here.
For that reason, I can assure you that anything I say here is my honest opinion.  While I do include ads and affiliate links, in order to make money from this blog, these do not in any way affect what I write.
When I write a book review, I am giving my honest opinion of the book. If I include an affiliate link to buy the book, it is to make it easy for the reader to purchase the book if she so desires.  And, yes, I will then make a few cents on that purchase. (But it will not affect the price for you, the buyer, at all.)
---
I use A LOT of Scripture in my writing. Through my years of studying God's word I have used many translations, and encourage my readers to look verses up in multiple translations in your own personal Bible study time. Along the way, I've fallen in love with the NLT. It so beautifully communicates the Word of God in a way that is very easy to understand. For that reason, I have chosen to use NLT as my default translation here on the blog. If I occasionally prefer the way another translation states a verse, this will always be indicated in parentheses next to the passage.
*****Unless otherwise indicated, all Scripture quotations are taken from the Holy Bible, New Living Translation, copyright © 1996, 2004, 2007 by Tyndale House Foundation. Used by permission of Tyndale House Publishers, Inc., Carol Stream, Illinois 60188. All rights reserved.
---
Privacy Policy
His Dearly Loved Daughter will collect some personal information (like email addresses) from anyone who subscribes, or leaves a comment.  This information is solely for the use of His Dearly Loved Daughter, and will not be distributed elsewhere in any way.
Signing up for the subscriber list will not result in large amounts of spam emails.  You will receive one email each week updating you on all the happenings of the His Dearly Loved Daughter ministry. On occasion there may be an additional update email (though this hasn't happened yet) if there is information I wish to urgently share with my subscribers.
**If you have subscribed to HDLD, but are not seeing the weekly emails in your inbox, you might check your spam folder. Occasionally the provider used for email subscriptions gets labeled as spam by certain email providers.
The ad network I use (a product of google) does use cookies to generate its ads and choose products/services that are relevant to you, the reader, based on your search history. I have tried to block any ad categories that I think are likely to have inappropriate material, but this is very difficult to do thoroughly. Please know that His Dearly Loved Daughter is not selecting the ads that appear on your screen and does not necessarily endorse them. I sincerely apologize if something triggering or inappropriate shows up!